I had a fun chat recently with Kathy Bernard and Barbara Kline, otherwise known as 2boomerbabes.com. We ripped up the airwaves talking about some of my top affordable holiday wine picks.
Click here to download the Podcast
My interview is on 17 minutes into the show, but you can listen to the whole broadcast that included a talk with #1 New York Times bestselling author, Mary Higgins Clark , and Huffington Post columnist, Ann Brenoff, who gives tips on how to age more slowly. (My tip, of course, is a glass or three of wine a day.)
Here are the babes coordinates and my notes on these delicious drinks. Enjoy them in the waning days of 2014 or even to welcome 2015. Cheers!
2BoomerBabes Information: Tune in Saturdays on NPR affiliates, Sundays on commercial talk radio, and Mondays on SiriusXM Radio, Channel 141 at 11 a.m. EST. You can always visit 2boomerbabes.com  or iTunes to hear this week's show.
*****
Leslie's Tasting Notes
Two of my favorite Prosecco producers include the elegant Villa Sandi and the classic sparklers of Mionetto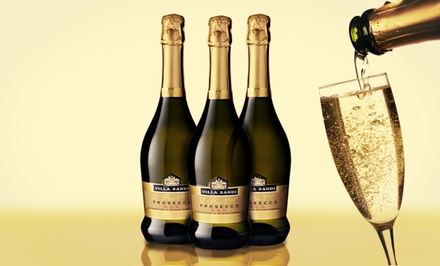 Gloria Ferrer, Blanc de Noirs, Sonoma, California $20-22
A beautiful sparkling wine based upon Pinot Noir, it's a bubbly to drink all night long. Crisp enough to whet your palate as an aperitif, it has the power to pair with fish and chicken dishes. In other words…plan on a bottle per person.
2013 Franciscan Estate "Equilibrium" white blend, Napa Valley, California $20-22
Whether you're pairing cheeses, spicy fare or just imbibing a glass to kick off the night, this fruit-driven white is an ideal choice. A blend of Sauvignon Blanc, Chardonnay and a dash of Muscat, it has a hint of sweetness, which is balanced by the brightness of the Sauvignon. A crowd-pleasing wine that satisfies lovers of dry and sweet whites.
 2011 Veramonte "Ritual" Pinot Noir, Casablanca Valley, Chile $21-23
It's not easy to find a high-quality Pinot Noir in the $20 range, but this is hands-down my favorite of the year. Crafted from selected parcels of Veramonte's vineyards in cool-climate Casablanca Valley on Chile's coastline, it sports ripe berry fruit character with an underlying earthy complexity. You'll want to stock up on this to sip throughout 2015.
2011 Beast "Wildebeest" red, Columbia Valley, Washington $23-25
From one of Washington state's best producers, Buty (pronounced Beauty), the Beast line of wines is their whimsically-named yet seriously-crafted alter ego. This wild blend of Cabernet Sauvignon, Syrah, Mourvedre, Grenache and Cabernet Franc is layered and lush, but still sports vibrant acidity. A beautiful beast to be sure.
2013 Montes "Cherub" Rosé of Syrah, Colchagua Valley, Chile $14-16
I simply adore the Cherub. You can't find a prettier bottle to look at than this baby angel from Montes. The deep garnet hue is alluring, but it's the bing cherry and succulent fruit flavors that will make you fall in love. It has enough heft to offset food with character (braised and grilled meats, for example) but is delicate, too, allowing pairing with ceviche and salads. Forget just holidays, this is a wine to buy for spring, summer, winter, and fall sipping.
*****
Two other resources to check out for finding and buying these wines:
For more holiday picks check out my latest appearance on the Daily Meal's "Dish with Diane". Happy holidays!